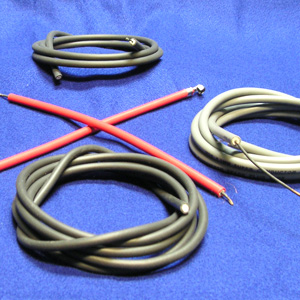 Manufacturing custom wire solutions is our specialty at LGM, LTD., with a tradition of quality that extends back to our inception in 1985. We work closely with our customers to design and fabricate high quality custom products, including custom wire wound ignition core and distributive resistance core wire. With our state-of-the-art facilities and a nationwide network of distributors and warehouses, we ensure on-time deliveries of standard and custom ignition wire solutions.
Ignition wire conductors need to deliver 30,000 to 50,000 volts to create the spark required for internal combustion engines, all the while avoiding Radio Frequency Interference (RFI) and Electromagnetic Interference (EMI). We offer a wide range of conductors that effectively deliver the required energy without RFI or EMI, all of which are manufactured in bulk and can be tailored to our customers' individual specifications. Our top two types of ignition wires are Wire Wound Conductors and Distributive Resistance Core.
Distributive Resistant Core Wire: These represent the most common and economical ignition wire styles. Designed with a suppression core, this wire utilizes non-metallic conductive materials that include stranded or twisted Armid fiber, or Armid/fiberglass blends—all coated with conductive latex. This conductor provides uncompromising durability while effectively suppressing RFI and EMI. The suppressor core provides resistance ranging from 1600 to 7000 ohms per foot, with higher levels available by request.
Resistant Wire Core Specifications
Wire Design

Suppression Core
Carrier Options

Armid (Stranded or Twisted)
Fiber Glass (Stranded or Twisted)
Armid/Fiber Glass (Stranded or Twisted)
Finishing Coating Options

Conductive Latex
Release Agent Option

Graphite
Silicone
Resistance OHM/FT

1600 ohms to 7000 ohms
Higher upon Request
Finished Diameter

0.040 in to 0.090 in
Wire Wound Conductors: Another very popular option, wire wound conductors are constructed with carriers made from Armid, fiberglass, or a combination, with a fine stainless steel, copper, or nickel alloy wound around it. A number of options are available for carriers; they can be twisted or stranded, pre-coated with conductive latex, or pre-coated with heavy or light ferrite-loaded latex if magnetic properties are needed. Resistance levels are available ranging from 10 to 5000 ohms per foot, with up to 50,000 continuous feet of wire available without slices or cutting the core. Wire wound conductors are highly reliable, providing increased energy to spark plugs that ultimately increase the gas mileage of vehicles that use them.
Our work meets the highest levels of quality, including the standards set by ISO 9001:2008. Additional options for ignition wire may be available as well; for further information, please contact us directly.
Wire Wound Conductor Specifications
Wire Design

Wire Wound Conductor
Carrier Options

Armid (Stranded or Twisted)
Fiber Glass (Stranded or Twisted)
Armid/Fiber Glass (Stranded or Twisted)
Pre Coating Options

Conductive Latex
Heavy Ferrite Latex
Lite Ferrite Latex
Release Agent Option

Graphite
Silicone
Resistance OHM/FT

10 ohms to 5000 ohms
Higher upon Request
Finished Diameter

0.020 in to 0.100 in
Alloy Options

Sizes- .0001 to .0085 in
Stainless Steel
Copper
Copper Alloys
Nickel Alloys
Finishing Coating Options

Conductive Latex
Industry Standards

ISO 9001:2008
International Organization for Standardization