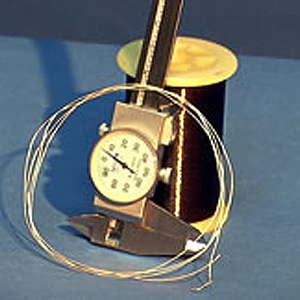 In business since 1985, at LGM, LTD. we hold our place among the world's most important suppliers of specialty wire winding services. Our extensive, state-of-the-art facilities allow us to provide the industry's most advanced wire productions, including a broad selection of flexible heating wire. Widely known as a "rope heater," this product is constructed with high temperature resistance wire, spiral wound to a fiber substrate, with optional insulation available. We produce a wide variety of standard rope heaters, along with custom designed and manufactured products that will meet virtually any specification or requirement.
A wide variety of construction options for flexible heating wire is available. In addition to fiberglass substrates, we can also provide carriers built with customers' specified materials. Numerous finishing diameters are available as well, with resistance ranging from 1.5 ohms to 5000 ohms per foot. We also provide a number of different alloy options, ranging in size from 0.0001" to 0.085". Some of the available alloys include stainless steel and copper, as well as copper and nickel alloys. Our experienced engineers, designers, and fabricators work to create prototypes for customers to test. After a successful prototype has been created, we can produce custom rope heaters in volumes as high as our customers require.
Our deep level of experience and expertise in working with wire allows us to provide work of uncompromising quality. Everything at our shop meets the demanding standards of ISO 9001:2008-all with superlative customer service and fast turnaround times.
To learn more about our custom rope heaters, please see the following table or contact us directly.
Rope Heater Specifications
Wire Design

Flexible Rope Heater
Carrier Option

Fiberglass
Customer Specified Material
Resistance ohms/ft

5 ohm to 1500 ohms per ft
Finishing Diameter

Size Vary
Alloy Options

Sizes- .0001 to .0085 in
Stainless Steel
Copper
Copper Alloys
Nickel Alloys
Industry Standards

ISO 9001:2008
International Organization for Standardization